---
Taking your phone between networks in the US can be a tricky business, but well worth it. If you've got a handset that you're still happy with, but want to ditch your current carrier, keeping your old device instead of buying a new smartphone on a contract can result in huge savings.

Read on to figure out if you can keep your phone and, in turn, save a bunch of cash with a BYO cell phone plan.
Switching? Check your phone instantly
---
Some phones only work with one network, whereas other phones can be switched across all networks. First, identify your carrier's original network below, then select your network and your phone model to see which carriers you can switch to.
1) Which network did you purchase your phone from?
2) Which phone model did you purchase?
Read below to find out more about wireless networks, or skip ahead to your carrier: Verizon, AT&T, T-Mobile, or Sprint.
CDMA vs. GSM: What's the Difference?
---
The first hurdle when moving between networks is a big one; US carriers don't all run on the same kind of cellular technology. If your current carrier is set up for one, and your desired carrier set up for another, then it's likely you won't be able to use your current phone on the new network.
Cell phone companies operate under one of two types of networks; either CDMA or GSM. Of the four biggest US carriers, AT&T and T-Mobile run on 'GSM' networks, while Sprint and Verizon Wireless use 'CDMA'.
GSM
GSM phones use a SIM card for 2G (voice and text), 3G (voice, text and internet), and 4G (high speed internet and VoLTE) operation. This is a small removable plastic card that stores the data needed to identify a subscriber on a wireless network. The phone itself is not part of the authentication process; the SIM card handles all of that.
This is great news; you can remove the SIM from your current phone and insert it into another compatible device, provided it's either with the same carrier or you've 'unlocked' it from its original network for use on another. Swapping the SIM means the new phone will operate over the same network with the same phone number.
CDMA
Phones running on CDMA networks don't use a SIM card for 2G or 3G, but require one for 4G. Electronic serial numbers are used to identify subscribers for 2G and 3G. These serial numbers are coded in to the phones themselves, which creates a problem if you want to switch carriers.
You'll need to get your new provider to grant permission for your device to be given a serial number (and thus a working service line and phone number) on its network.
GSM is common globally, and is used in far more countries than CDMA - so travelling with a CDMA phone may be difficult. A few phones, like the 'CDMA' variants of the iPhone 6 and 6 Plus, are designed to work over both CDMA and GSM. These are often referred to as ' global' by carriers. If you're lucky enough to have a phone like this, you may be able to move to most carriers.
Unlocking Your Phone
Device-locking is pretty common. This is when a carrier places a block within the phone to restrict it from working on any network but its own.
Getting your phone unlocked can range from trivial to downright tricky, depending on your carrier. Each handles the process in its own way, which we'll cover in each section. If you've finished your contract, paid for your phone in full, or have used it for over one year on a prepaid service, then chances are you're eligible for unlocking.
If you bought your phone off-contract (i.e., an iPhone directly from Apple for full outright price), then it should already be unlocked.
Verizon
---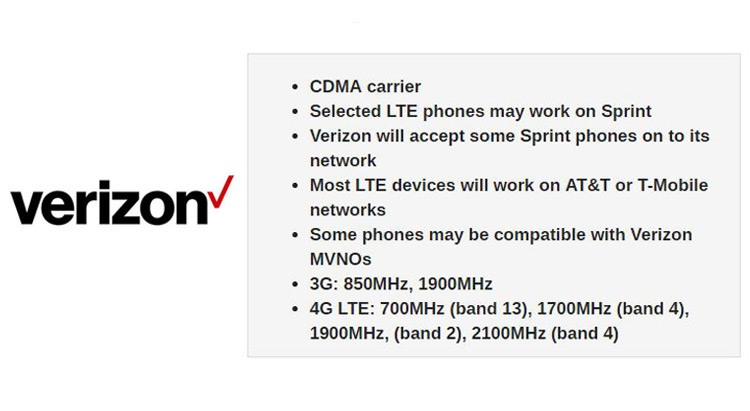 Where can I use my Verizon phone?
All 4G LTE Verizon phones come network unlocked.
You should be able to use your 4G device on AT&T and T-Mobile.
Verizon devices may also work with the carrier's MVNOs, such as Straight Talk, Page Plus and Red Pocket.
Some Verizon phones - newer iPhones, Google Nexus models, and some Motorola handsets - will work with Sprint.
Almost all of Verizon's phones come network unlocked - more information is available here.
AT&T
---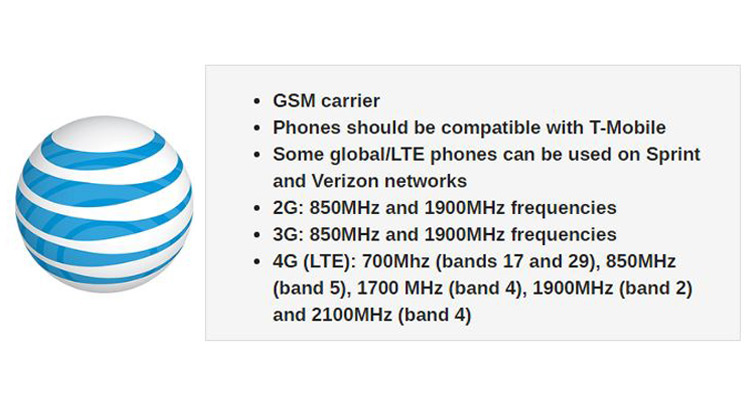 Where can I use my AT&T phone?
You can take most phones to T-Mobile or other GSM providers.
4G LTE devices should work on Verizon, although you may not be able to use 3G/2G services.
Some phones - such as newer iPhones and selected Nexus devices, will work with Sprint.
Find out how to unlock your AT&T phone in our step-by-step guide.
T-Mobile
---
Where can I use my T-Mobile phone?
Devices should work with AT&T and other GSM providers.
4G LTE phones with Band 2 or 4 compatibility should work with Verizon.
Selected T-Mobile iPhones, Nexus devices, and the Motorola Moto X Pure Edition should be compatible with Sprint.
T-Mobile devices are often locked to its network, but good news: our guide to unlocking a T-Mo phone is available here.
Sprint
---
Where can I use my Sprint phone?
Selected Sprint devices may work with Verizon: namely the iPhone 5c and up, as well as Nexus devices and the Moto X Pure Edition.
Some devices can be taken to Ting and Boost Mobile, but not prepaid brand Virgin Mobile.
Global Sprint devices with SIM card room may work with AT&T and T-Mobile's GSM networks, but only on 4G LTE service.
Before you can take your Sprint device to a new carrier, you'll need to make sure it's network unlocked - find out how here.
Ready to take your phone to a new carrier? Start comparing BYO plans below.
Compare Carriers to Find the Perfect
Cell Phone Plan
---